This is my personal tribute in memory of one of USKA's (the Ultimate Sport Kickboxing Associations) favourite sons Azmat Yaqub. Azmat passed away on Thursday 29th August 2004 aged just 35 years old as the result of gunshot wounds sustained in a vicious and cold blooded attack at the gym he held so close to his heart.

I first met Azmat about 5 years ago when the U.S.K.A kickboxing club moved to it's new premises at Chic Physique health and fitness centre in Sparkhill. Azmat was the first of the weight trainers from Chic Physique who made the transition over into my kickboxing classes. What an impact this was to have, not only for the kickboxing gym but also for me in my personal life. On the very first session Azmat and I got involved in a toe to toe boxing slugfest that was the start of a mutual respect we would carry for each other from then on.

He was hooked on the high intensity training and was comfortable around the placid mild manner of the kickboxers at the gym. Azmat would fully commit himself to the training over the next three years and bring to the sessions his very own motivational techniques to encourage each and every person that he trained along side with.

He soon after decided that he wanted to put his new found skills into practice in the prize ring and start competing in full contact kickboxing bouts. Azmat's presence in the full contact ring was awesome. With a Tyson like left hook and power right leg round kick any one that was hit with those techniques would stay hit and knew it was an experience that they could do without experiencing again. He captured the Midland area pro-am title at light heavyweight with a devastating knockout over an opponent from Wolverhampton and built up a reputation as being a fearful puncher.

The highlight of his fighting career came when he went toe to toe in a bout with later to be crowned world champion Paul Taylor in a fight that is still talked about today. Azmat unfortunately lost the bout but performed excellently against his far more experienced counterpart gaining huge respect from the kickboxing fraternity.

Putting a hold on his ring career Azmat continued to train and coach at the academy still bringing out the best in people pushing to them to their limits in his circuit training work outs.

Outside of gym life i found myself drawn to his addictive personality. Azmat a very eloquent and intelligent man had an unshakeable faith in Islam, a religion that through Azmat i decided to look into in more depth before finally embracing about three years ago. Azmat along with others were always there for me, guiding and steering me to all the information i needed to take my life changing leap of faith.

It was not only my faith that he helped me find. Azmat took me under his wing and looked after me as if i were his younger brother. Anything I needed, any situation he was there. My car had problems......he was there to fix it. I needed to get somewhere......he was there to bring me. I had a dilemma......he was there with the right advice. If i were to ever find myself on a battle field i would feel no more comfort than to know this man was standing shoulder to shoulder by my side. I knew i had a friend who unquestionably would put me before himself and ask nothing in return.

Azmat opened up to me more than he did most. Most people would only see one side of him. The side of the man in control, the hard man, the strong man, the man who put in any situation would assess it and take control of it in an instant. I was privileged to see the other side Azmat, a caring, loving, compassionate, generous, intellectual, God fearing side that made him one of the most endearing influences on me of my life thus far.

He became my third Brother. One of my nearest and dearest friends and confidant. I thank God for allowing me to be this mans friend all being it for just a short time. I thank God that i was privileged to be the last one give him Salaam. I thank God i was the last one to embrace him with a hug minutes before he died. I thank Azmat that he chose me out of all the people he could have chosen to share a part of his life.

I will miss you my brother and friend. A part of me is gone never to return. As i write this i am still coming to terms with what I and everyone who knows you have lost. I promise i will never forget you and what you have done for me. I promise to pray for you and one day insha-allah again we will meet to give each other another salaam and once again share a brotherly hug.

Azmat the loving family man leaves behind a wife and three children.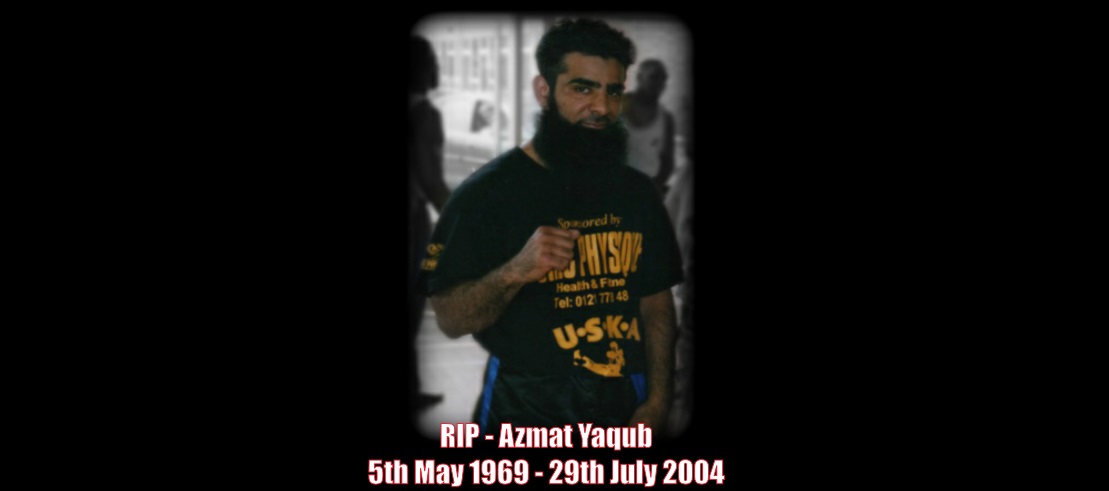 ---
UPDATE - JULY 2023
INTRODUCING OUR CHARITY PROJECT FOR 2023
IN THE NAME AND MEMORY OF KHUZAIMAH DOUGLAS AND AZMAT YAQUB
We are ecstatic to be able to finally announce our Charity Project for this year working with our Charity partners Jigsaw.
Jigsaw is an independent non-profit organisation founded by a team of professionals and activists seeking to make a positive impact and contribution to the lives of those less fortunate. The trustees, management team and network of core volunteers at Jigsaw bring a wealth of experience having worked voluntarily in the sector for almost a decade and raised millions of pounds for a variety of great causes. Jigsaw is completely volunteer-managed and run, which means they have no paid staff whatsoever!
USKA Charity Project 2023...
We all saw the devastation caused by the earthquake which struck Syria on February 6th 2023 causing thousands of deaths and homes to be lost. Generations were wiped out, children orphaned, thousands of people lying dead under the rubble, unable to be buried because the resources are not available to search for and recover the bodies. 11 YEARS of danger, hunger, unrest and uncertainty have plagued the lives of ordinary Syrian families trying to live their lives. Now those affected have to contend with being homeless with no possessions and rebuilding their lives all over again.
After successfully completing the first Jigsaw Village project inside Idlib, we aim to build Jigsaw Village 2.0. The second housing project by Jigsaw Charity to house Syrians inside Syria. The village will consist of 500 brick built homes which will be given to those made homeless by the earthquake. The land has been secured and we aim to begin groundwork ASAP Inshallah.
Each house will have 2 living/bedrooms, a kitchen, a bathroom and a courtyard. The cost of providing a family with a roof over their head, some stability, comfort, warmth and safety is just £1900.
This is a Zakat eligible project, and an excellent Sadaqah Jariyah opportunity for you or someone else!!
Team Jigsaw will be overseeing this project personally, visiting the site in Ramadan as well after Ramadan to monitor progress and update yourselves. They are one of the few UK aid agencies who are regularly on the ground inside Syria hand delivering the aid to those who most need it.
Project mission: To raise
£11,400
to build 6 secure homes (£1900 each) for displaced Syrians located in the safe zone near the Turkish border in Idlib forming part of the Jigsaw 'Earthquake' Village 2.0. Each house will be 38m² consisting of two rooms, a kitchen, and a bathroom with water.
This USKA Fight Factory Charity Project will be carried out in the memory of our beloved students Khuzaimah Douglas and Azmat Yaqub who we miss dearly.
Please give generally to help us reach our total!
Click Here To Donate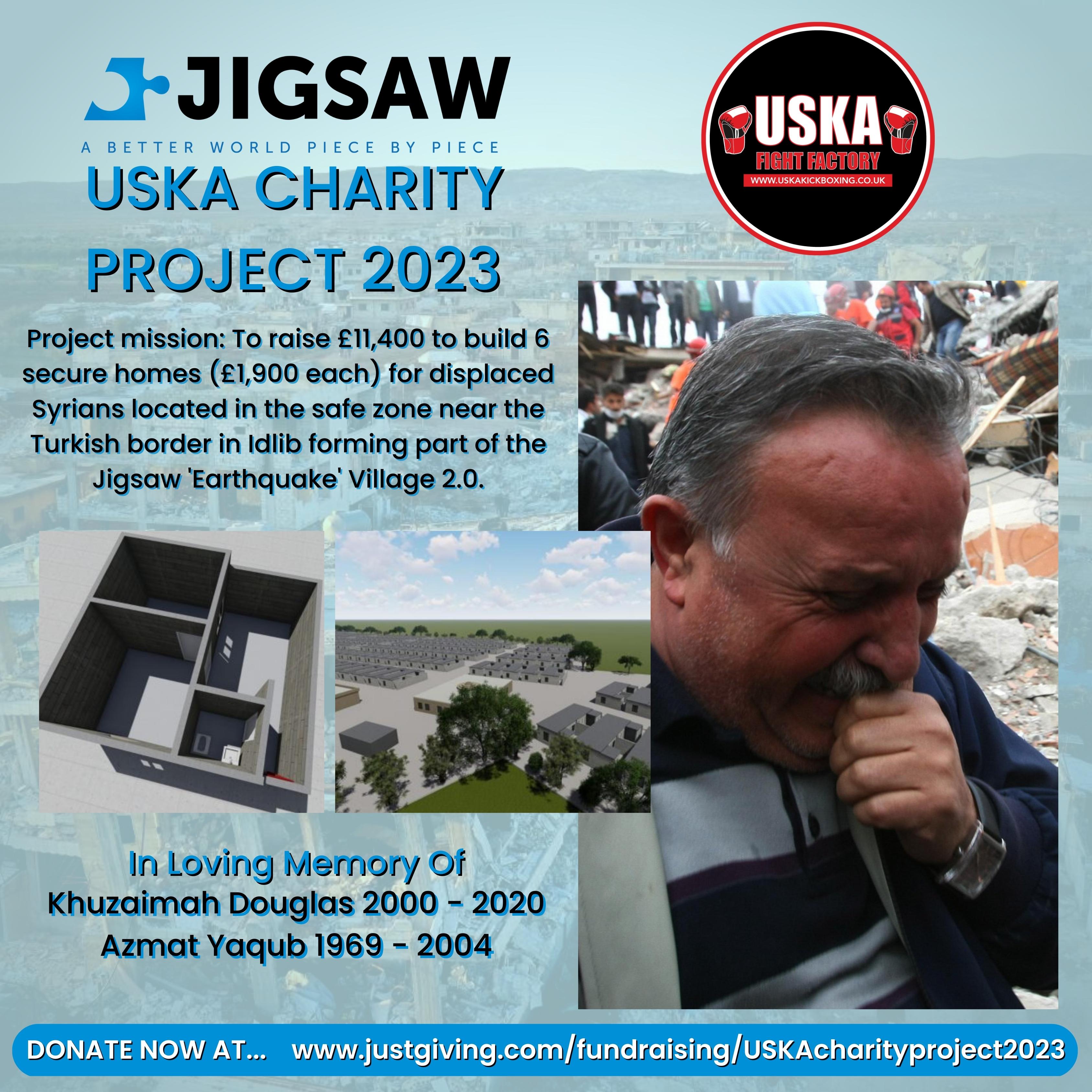 ---
UPDATE - JULY 2023

USKA CHARITY UGANDAN MOSQUE BUILD PROJECT 2022 COMPLETE
IN THE NAME AND MEMORY OF KHUZAIMAH DOUGLAS AND AZMAT YAQUB

In 2022 USKA Fight Factory Kickboxing Gym in Birmingham undertook a Charity project with it's Charity partner ISRA-UK to raise funds to build a Mosque in Uganda, Africa in the loving memory of their Brothers Azmat Yaqub and Khuzaimah Douglas.
The proposed Mosque would be 13 meters x 13 meters in size have three main doors, 8 windows, a minaret and be fully plastered at a cost of £10,000.
In addition to the Mosque they would raise a further £5,000 to extend an added Electric Solar Powered area that would also incorporate a Wudu and Toilet Area.
After raising funds through the kindness of the gyms members and friends throughout 2022 construction on the Mosque began in January 2023 and we are pleased to announce that it is finally complete with the community now making use of the Mosque and the facilities.
The Mosque is situated in Kitayiza, Kiganda sub county in Kassanda district, Along Mubende-fort portal highway which is 105km from Kampala city centre.
We would like to thank everyone who made this project possible, who prayed for it's success and who contributed to it in whatever way big or small.
If you are reading this, please say a prayer for Azmat, Khuzaimah and their families. God bless them and God bless you all.


---
UPDATE - DECEMBER 2022

USKA CHARITY UGANDAN MOSQUE BUILD PROJECT 2022
IN THE NAME AND MEMORY OF KHUZAIMAH DOUGLAS AND AZMAT YAQUB

We are thrilled to be able to announce that we have reached our £15,000 target of raising funds to build a Mosque including a Solar Powered Wudu and Toilet area in Uganda in the loving memory of our Brothers Khuzaimah Douglas and Azmat Yaqub who we miss dearly..
The fundraising that we had initially anticipated would take us 2 years to complete has amazingly taken us just over 10 months through the support and kindness of all our contributors.
Construction of the Mosque can now commence with anticipated completion of the project being wrapped up between June and August 2023 if not sooner.
Please check back here regularly for build updates that we hope to receive from our Charity partners ISRA-UK.
We would like to wholeheartedly thank each and everyone who helped to make this happen through donations, support and prayers.
God bless Khuzaimah and Azmat and God Bless you all.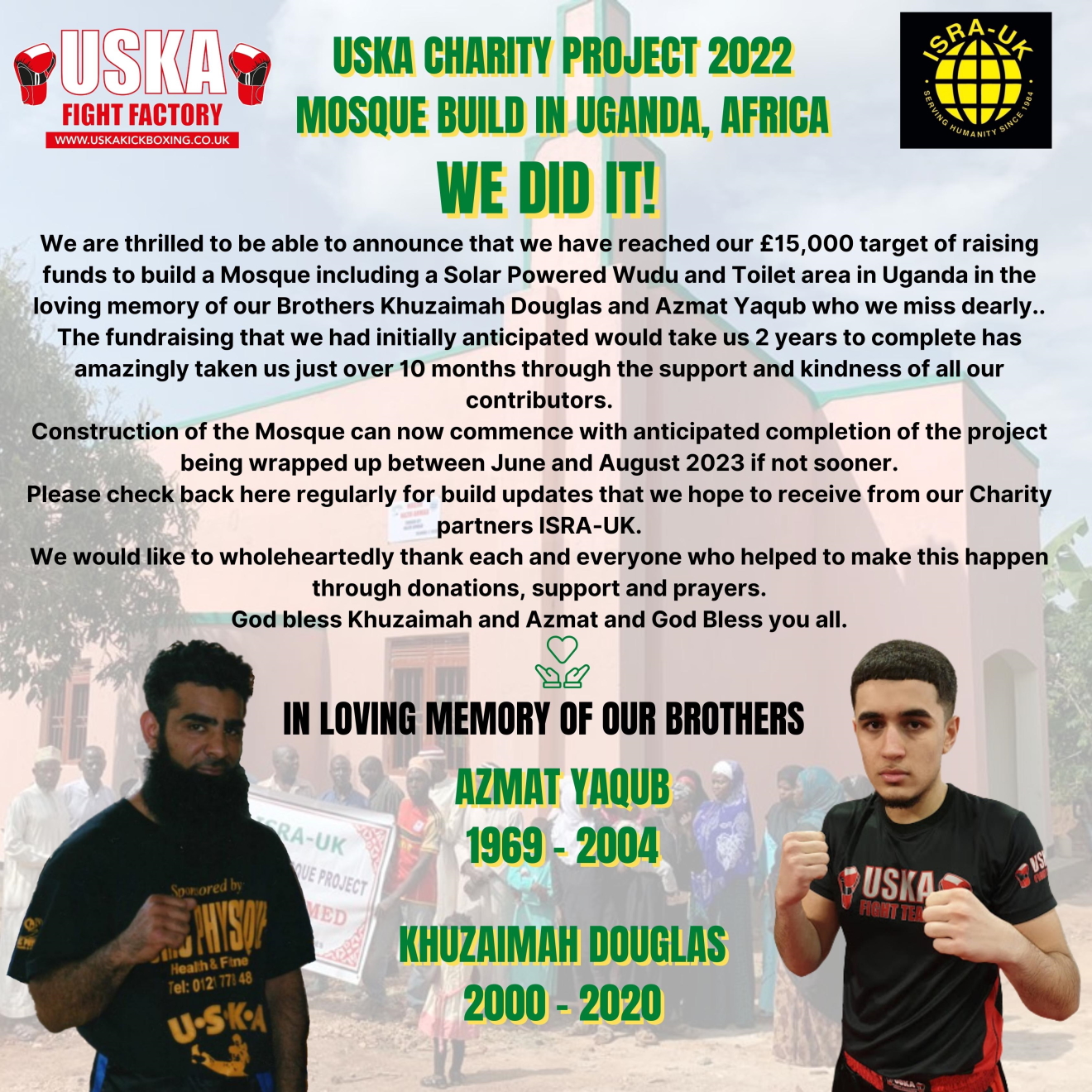 ---
Please if you have taken the time to read this, take the time to say a prayer for Azmat and his family.

Written by Neil Kelly – 30th July 2004

Below you can see some pictures of some Charity water aid projects that we have set up in our Brother Azmat's name and memory.