Khuzaimah Douglas Tribute
On 20th February 2020 we received the devastating news that we had lost one of our own at the USKA Fight Factory.

At only 19 years of age our beloved brother, friend and training partner Khuzaimah Douglas was taken from us suddenly and it has left a void and a space in our hearts that will never be replaced. Khuzaimah was an exceptionally talented Martial Artist who in just under 4 years of training won 12 World Championship Gold medals and had the World at his feet in terms of how far he could have gone within his chosen sport.

Khuzaimah's nature as a person was an infectious one and he left a positive mark on everyone he came into contact with from the smallest of little ninja at the gym to the most senior of adults making him one of the most personable members of the USKA gym and one that has had the most impact in his passing. We in Zaymi's memory must change and excel in everything we do, be better at everything we do and make him proud with the way we live our lives, conduct ourselves and how we approach our art. We miss and love you Zaymi and one day will get to go a few more rounds with you in Jannah Inshallah.

Please pray for Khuzaimah and his family and do good in his name.

Inna Lillaahi Wa Inna Ilayhi Raaji'oon
(To Allah we belong and to him is our return)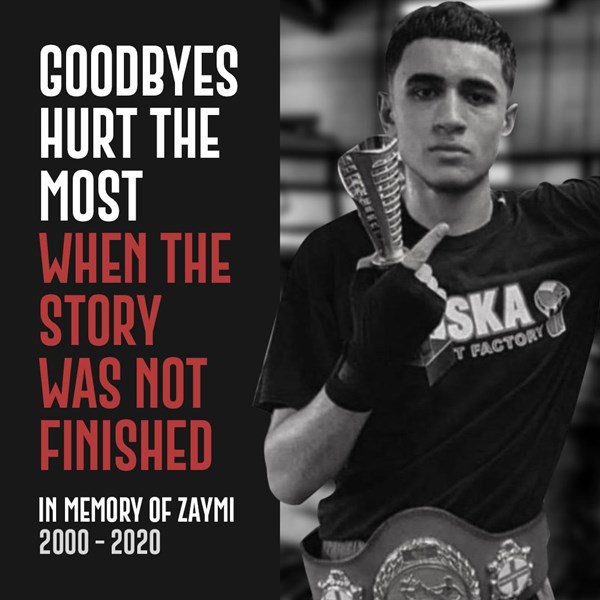 ---
UPDATE - FEBRUARY 2022
For our 2022 / 2023 Charity project we intend to raise funds to build a Mosque in Uganda, Africa in the loving memory of our Brothers Azmat Yaqub and Khuzaimah Douglas who we miss dearly here at USKA Fight Factory.
The Mosque that will be 13 meters x 13 meters in size shall have three main doors, 8 windows, a minaret and be fully plastered at a cost of £10,000. We also intend if fundraising goes well to extend an added Electric Solar Powered area that will also incorporate a Wudu and Toilet Area at a further cost of £5,000 (Estimated quote as from February 2022
The construction once funds have been raised is expected to last for two and a half months.
In our fundraising we appeal for help with donations no matter how big or small... little by little, a little becomes a lot.
Thank you in advance for your support and your kindness.
www.justgiving.com/fundraising/zaymi-azmat-mosque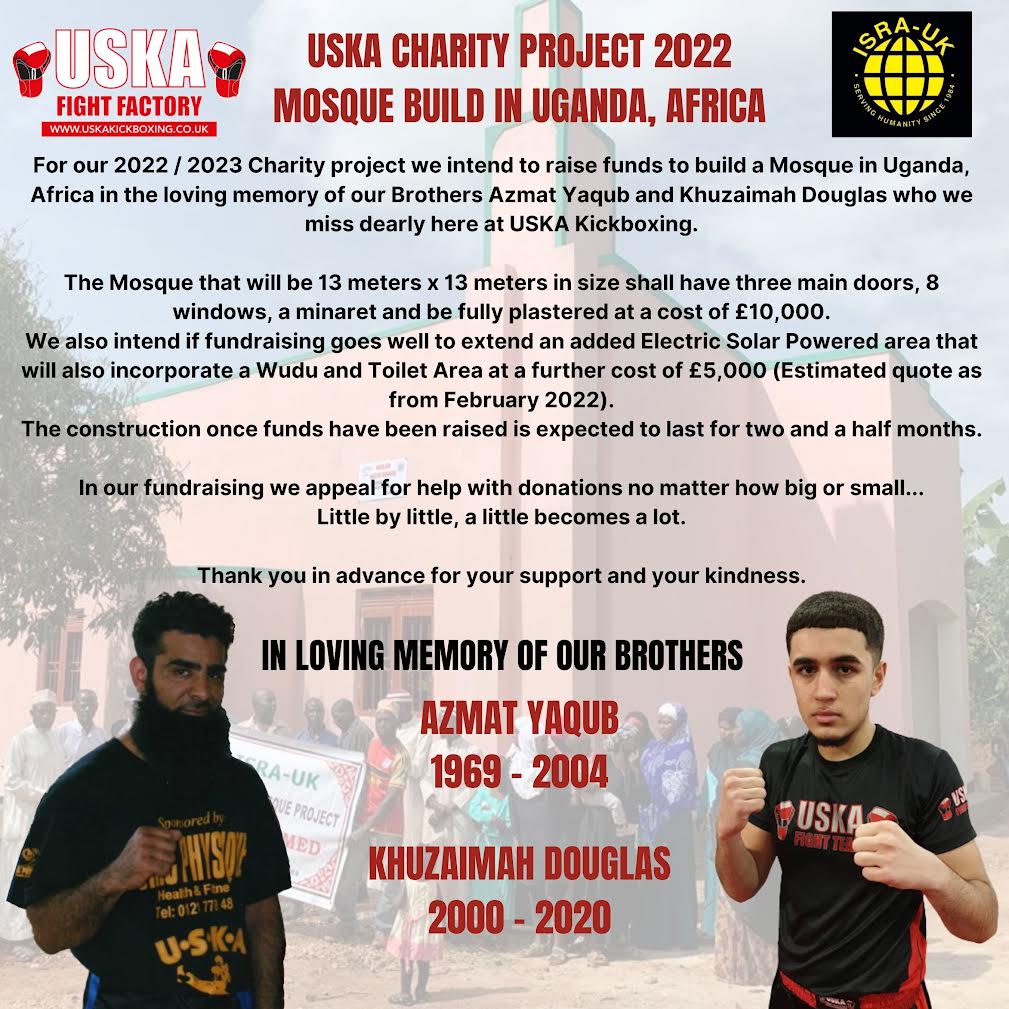 ---
UPDATE - JANUARY 2022

Following six weeks of fundraising in December and after a lot of hard work and generosity from the friends of the USKA Fight Factory it is with much gratitude that I would like to announce our final total for our 2021 Water Well charity project

We raised £3,890 online with Just Giving
We raised £2,441.87 offline in cash donations

Bringing us to a grand total of £6,331.87

With your kind donations we through our Charity partners at ISRA-UK are now able to provide 4 Solar Powered water wells in Pakistan at £1550 each and with the remainder of £131.87 we are able to plant 22 Olive trees in Palestine at a cost of £6 each in the memory of our much loved and lost friend and Brother Khuzaimah Douglas.

We will keep everyone updated on the progress of the wells and tree plantation through our website.

JazakAllah Khir for everyone's kindness and hard work on the project.



---
UPDATE - JANUARY 2021

Our Charity project last year was to raise money to build three Solar Powered water well pumps in Pakistan in our beloved Brother Kuzaimah Douglas's name. Due to the Global Covid Pandemic it slowed down production but happily the final pump was completed at the end of January in Rataniyari Khasheli Village in Tharparker Desert to add to the Solar Powered pumps in Jungaho Village and Rajar Khipro Village in the Achro Thar Desert from the end of last year. With an additional £652 raised we decided that we through The Isra-UK charity would fund an Olive tree plantation in Gaza and we are pleased to announce that we have received confirmation that that has now also been completed. Thank you to everyone who contributed to the project and also to everyone who has kept and who continue to keep Zaymi and his family in their thoughts and their prayers. Jazakallah to you all, may God reward you with goodness.
UPDATE - SEPTEMBER 2020

We are delighted to inform you that the first two of three solar powered water pumps funded by donations made in the name of our beloved brother and dearly missed friend Khuzaimah Douglas have been completed through our friends at the ISRA-UK Charity. The first pump in the small Jungaho village in the desert area known as Achro Thar, Sindh and the second in the small Rajar Khipro village in the same desert area in Pakistan. These pumps will benefit the locals who are largely peasant workers that struggle to get by day to day earning as little as $20 per month. The relief of accessing clean palatable water is more than a blessing for these communities as you can clearly see from the joy in the photos. These pumps have also removed the daily burden for the villagers walking long distances to find usable water. Thank you to each and every one of you for supporting the project and making this possible and may Allah (Subhanahu wa ta'ala) reward you and our Brother Zaymi in the Akhirah.
---
UPDATE - November 2020
On Saturday 28th November we handed over another £1,250.00 cash donation to our Brothers at Resole from money raised in the memory of our beloved Brother Khuzaimah Douglas.
Resole do some great work on the ground in the community and really do change peoples lives for the better with the invaluable support they offer the homeless and vulnerable youth that they come into contact with on a daily basis.
For the last two months the USKA Fight Factory gym has acted as a drop off point for people to donate trainers and shoes that they no longer need that will then get professionally refurbished and redistributed to those that need them most.
Along with the shoe donation we have through the generosity of the USKA patrons and friends raised £1,250 pound to help Resole continue to do what they do so well.
We would like to take this opportunity to wholeheartedly thank everyone who have supported this project. You are all amazing!
We will go again in the new year with another Shoe Bank and cash collection so if you missed out this time please keep us in mind for 2021.
Please also take a minute to follow Re:Sole on Facebook and Instagram to share on your feeds and stories to raise awareness in their mission.
God bless you all... Osu!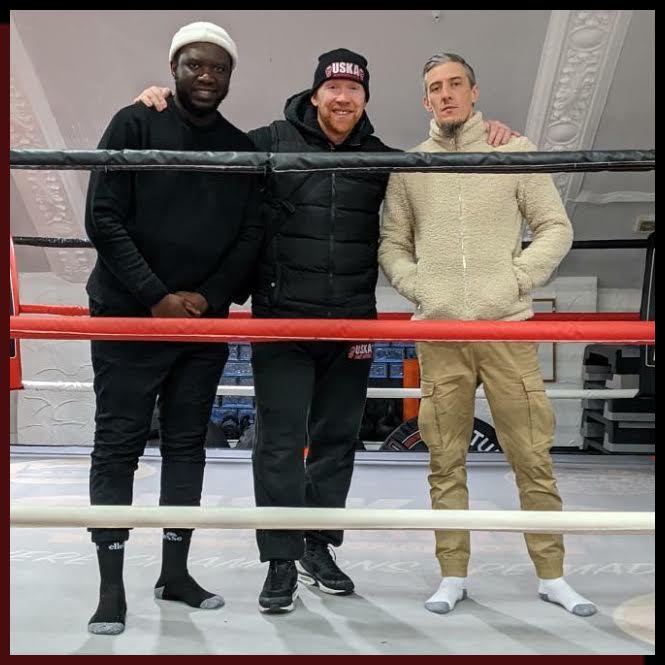 If you would like to continue to support the great work that Re:Sole are doing please contact them through the following links.
WEBSITE
INSTAGRAM
FACEBOOK
---
UPDATE - MAY 2020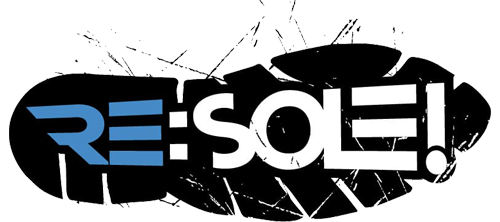 In May 2020 £1000 was donated to the Re:Sole Charity from funds raised in Khuzaimah's name. Re:Sole's mission is to provide the homeless and at-risk youth population with quality footwear to encourage healthier lifestyles and prevent disease while fostering a sense of community along the way.
Moosa from Re:Soles story...
When Moosa converted to Islam, his faith gave him a strong personal connection to charity and helping the less fortunate. Moosa decided to start a small side project with his mates, giving away high-quality trainers to at-risk teenagers and the homeless. After the horror of the Grenfell fire in 2017, they gave away extra donations to those who had lost everything. But in the years of his philanthropy, Moosa noticed that the quality of donations – particularly clothes – were not up to scratch. Feeling 'embarrassed' to hand over tattered items, Moosa decided to change the nature of his offerings. So he launched Resole, an initiative that hands out fresh trainers to the homeless and disadvantaged youths at risk of gang violence and drug abuse.
A message from the Re:Sole team and community
Resole have benefited greatly from the kind donation we received, It has allowed us to reach out to hundreds of people in London and also Manchester during very difficult times throughout the covid pandemic. Your donations have directly impacted some of the most vulnerable in our communities, May Allah reward you all abundantly and make it a means of expiation and ongoing sadaqah for khuzaimah.
Barakallah feek
If you would like to continue to support the great work that Re:Sole are doing please contact them through the following links.
WEBSITE
INSTAGRAM
FACEBOOK