UPDATE - JULY 2023
INTRODUCING OUR CHARITY PROJECT FOR 2023
IN THE NAME AND MEMORY OF KHUZAIMAH DOUGLAS AND AZMAT YAQUB
We are ecstatic to be able to finally announce our Charity Project for this year working with our Charity partners Jigsaw.
Jigsaw is an independent non-profit organisation founded by a team of professionals and activists seeking to make a positive impact and contribution to the lives of those less fortunate. The trustees, management team and network of core volunteers at Jigsaw bring a wealth of experience having worked voluntarily in the sector for almost a decade and raised millions of pounds for a variety of great causes. Jigsaw is completely volunteer-managed and run, which means they have no paid staff whatsoever!
USKA Charity Project 2023...
We all saw the devastation caused by the earthquake which struck Syria on February 6th 2023 causing thousands of deaths and homes to be lost. Generations were wiped out, children orphaned, thousands of people lying dead under the rubble, unable to be buried because the resources are not available to search for and recover the bodies. 11 YEARS of danger, hunger, unrest and uncertainty have plagued the lives of ordinary Syrian families trying to live their lives. Now those affected have to contend with being homeless with no possessions and rebuilding their lives all over again.
After successfully completing the first Jigsaw Village project inside Idlib, we aim to build Jigsaw Village 2.0. The second housing project by Jigsaw Charity to house Syrians inside Syria. The village will consist of 500 brick built homes which will be given to those made homeless by the earthquake. The land has been secured and we aim to begin groundwork ASAP Inshallah.
Each house will have 2 living/bedrooms, a kitchen, a bathroom and a courtyard. The cost of providing a family with a roof over their head, some stability, comfort, warmth and safety is just £1900.
This is a Zakat eligible project, and an excellent Sadaqah Jariyah opportunity for you or someone else!!
Team Jigsaw will be overseeing this project personally, visiting the site in Ramadan as well after Ramadan to monitor progress and update yourselves. They are one of the few UK aid agencies who are regularly on the ground inside Syria hand delivering the aid to those who most need it.
Project mission: To raise
£11,400
to build 6 secure homes (£1900 each) for displaced Syrians located in the safe zone near the Turkish border in Idlib forming part of the Jigsaw 'Earthquake' Village 2.0. Each house will be 38m² consisting of two rooms, a kitchen, and a bathroom with water.
This USKA Fight Factory Charity Project will be carried out in the memory of our beloved students Khuzaimah Douglas and Azmat Yaqub who we miss dearly.
Please give generally to help us reach our total!
Click Here To Donate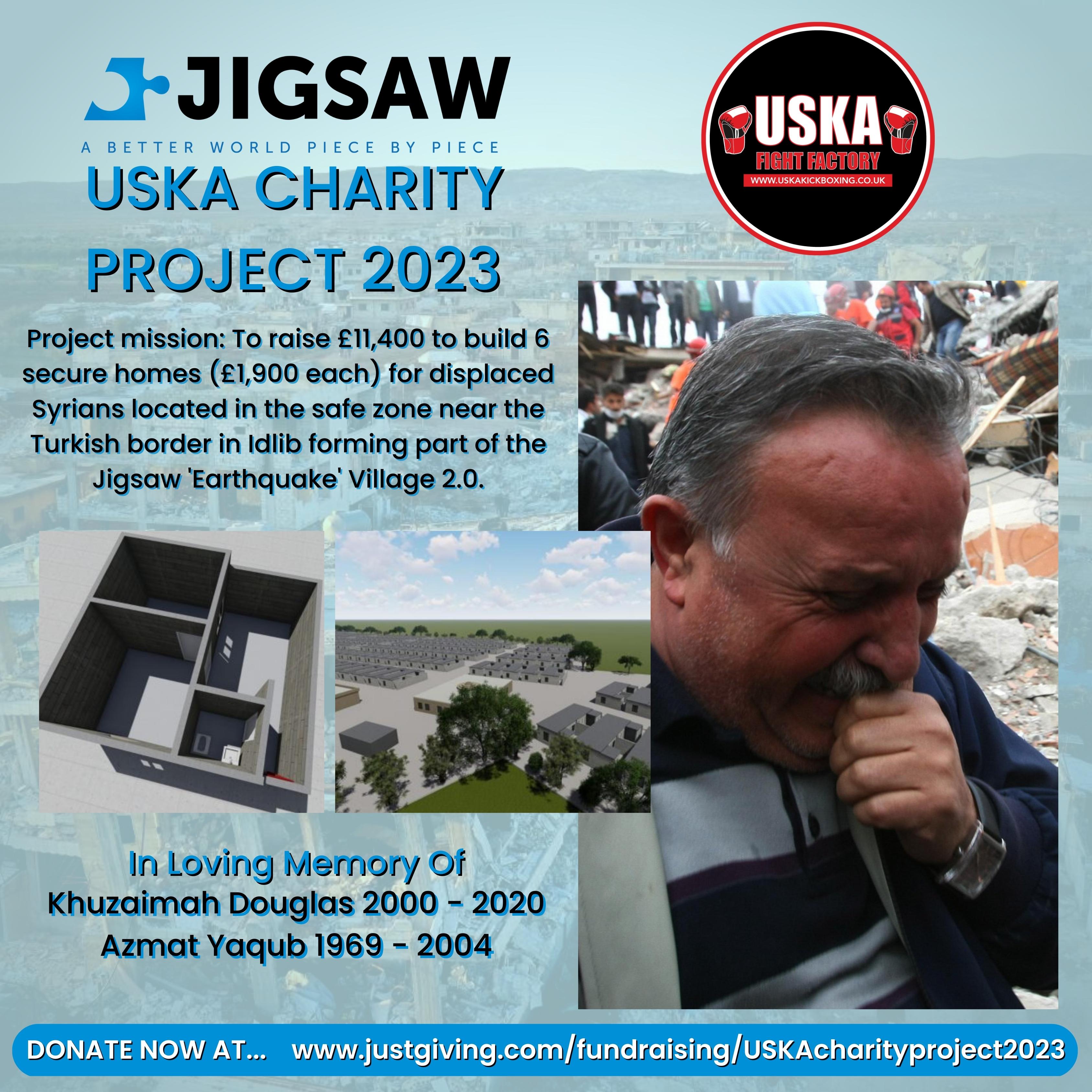 ---
UPDATE - JULY 2023

USKA CHARITY UGANDAN MOSQUE BUILD PROJECT 2022 COMPLETE
IN THE NAME AND MEMORY OF KHUZAIMAH DOUGLAS AND AZMAT YAQUB

In 2022 USKA Fight Factory Kickboxing Gym in Birmingham undertook a Charity project with it's Charity partner ISRA-UK to raise funds to build a Mosque in Uganda, Africa in the loving memory of their Brothers Azmat Yaqub and Khuzaimah Douglas.
The proposed Mosque would be 13 meters x 13 meters in size have three main doors, 8 windows, a minaret and be fully plastered at a cost of £10,000.
In addition to the Mosque they would raise a further £5,000 to extend an added Electric Solar Powered area that would also incorporate a Wudu and Toilet Area.
After raising funds through the kindness of the gyms members and friends throughout 2022 construction on the Mosque began in January 2023 and we are pleased to announce that it is finally complete with the community now making use of the Mosque and the facilities.
The Mosque is situated in Kitayiza, Kiganda sub county in Kassanda district, Along Mubende-fort portal highway which is 105km from Kampala city centre.
We would like to thank everyone who made this project possible, who prayed for it's success and who contributed to it in whatever way big or small.
If you are reading this, please say a prayer for Azmat, Khuzaimah and their families. God bless them and God bless you all.


---
USKA CHARITY UGANDAN MOSQUE BUILD PROJECT 2022
IN THE NAME AND MEMORY OF KHUZAIMAH DOUGLAS AND AZMAT YAQUB

We are thrilled to be able to announce that we have reached our £15,000 target of raising funds to build a Mosque including a Solar Powered Wudu and Toilet area in Uganda in the loving memory of our Brothers Khuzaimah Douglas and Azmat Yaqub who we miss dearly..
The fundraising that we had initially anticipated would take us 2 years to complete has amazingly taken us just over 10 months through the support and kindness of all our contributors.
Construction of the Mosque can now commence with anticipated completion of the project being wrapped up between June and August 2023 if not sooner.
Please check back here regularly for build updates that we hope to receive from our Charity partners ISRA-UK.
We would like to wholeheartedly thank each and everyone who helped to make this happen through donations, support and prayers.
God bless Khuzaimah and Azmat and God Bless you all.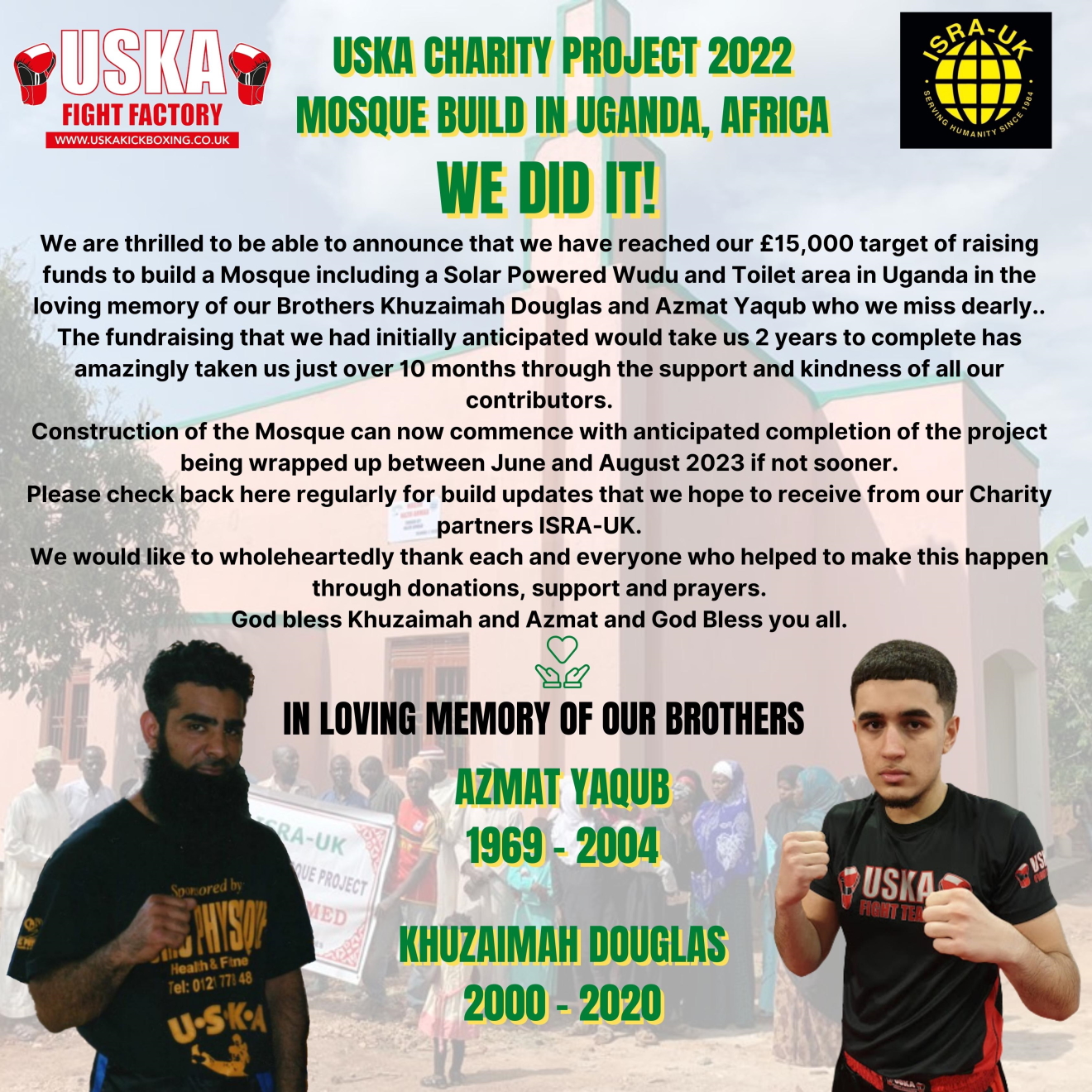 ---
USKA CHARITY WATER AID AND OLIVE TREE PLANTATION PROJECT 2021
IN THE NAME AND MEMORY OF KHUZAIMAH DOUGLAS
Continuing on from last years Charity project and on the advice from our Charity partners at ISRA-UK where aid was most needed we again decided that we would stick with providing water aid in Pakistan in a Community that has little or no clean water supply. These water solutions provide life-saving access to water for drinking, crop irrigation and market gardening.

With fund raising events the charitable contributions from the members and friends of USKA Fight Factory we raised a staggering £6,331.87. This phenomenal effort affords us to buy 4 Solar Powered water wells in Pakistan at the cost of £1550 each and with the remained of £131.87 we are able to fund the plantation of 22 Olive tree's in Gaza, Palestine in the memory of our much loved and lost friend and Brother Khuzaimah Douglas.

JazakAllah Khir for everyone's kindness and hard work on the project.

Please take a look at our Video below of the 4 Pumps being constructed and used at the four separate villages...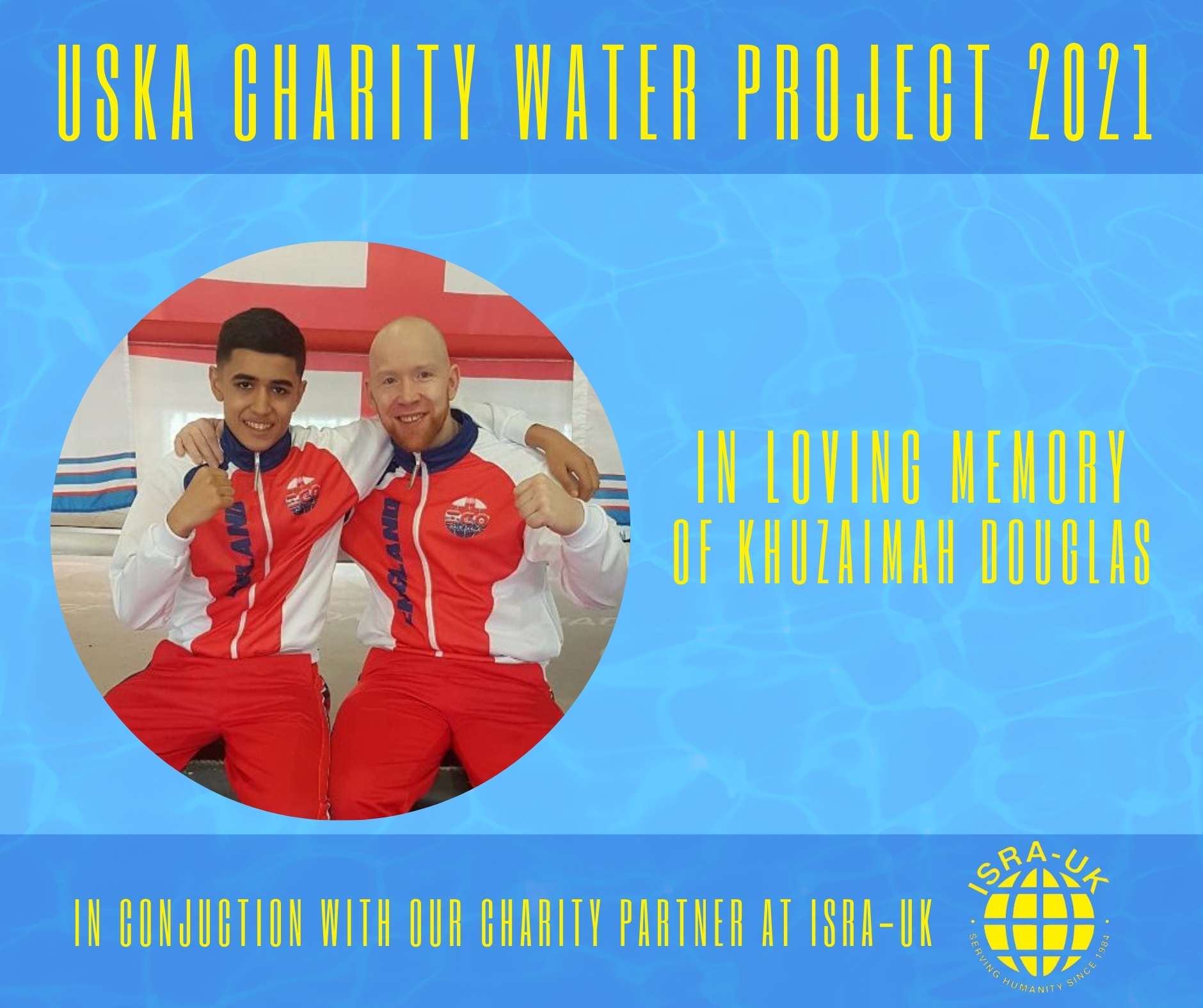 ---
USKA CHARITY WATER AID AND OLIVE TREE PLANTATION PROJECT 2020
IN THE NAME AND MEMORY OF KHUZAIMAH DOUGLAS
Despite a difficult year due to the Gobal Covid Pandemic our main Charity project seen us raise funds to through our Charity partners at ISRA-UK to build three Solar Powered water well pumps in Pakistan at the cost of £4,500. Through tremendous generosity and hard work £5,152 was raised allowing us to build the first pump in the small Jungaho village in the desert area known as Achro Thar, Sindh, the second in the small Rajar Khipro village in the same desert area in Pakistan and the third pump in Rataniyari Khasheli Village in Tharparker Desert. These pumps have benefited the locals who are largely peasant workers that struggle to get by day to day earning as little as $20 per month. The relief of accessing clean palatable water is more than a blessing for these communities. These pumps have also removed the daily burden for the villagers walking long distances to find usable water. With an additional £652 raised an additional 110 Olive tree's were planted in Gaza, Palestine.
Thank you to everyone who contributed to the project and also to everyone who has kept and who continue to keep Zaymi and his family in their thoughts and their prayers. Jazakallah to you all, may God reward you with goodness.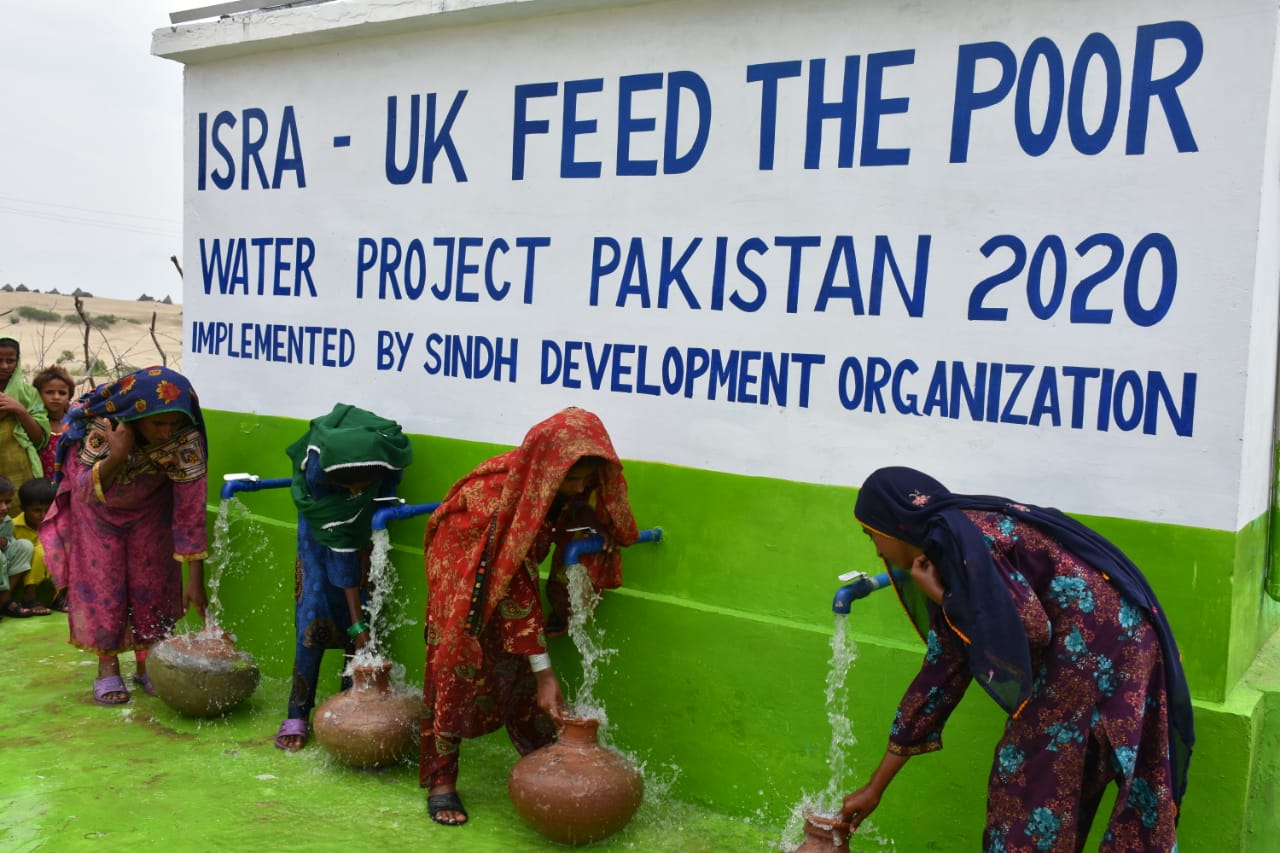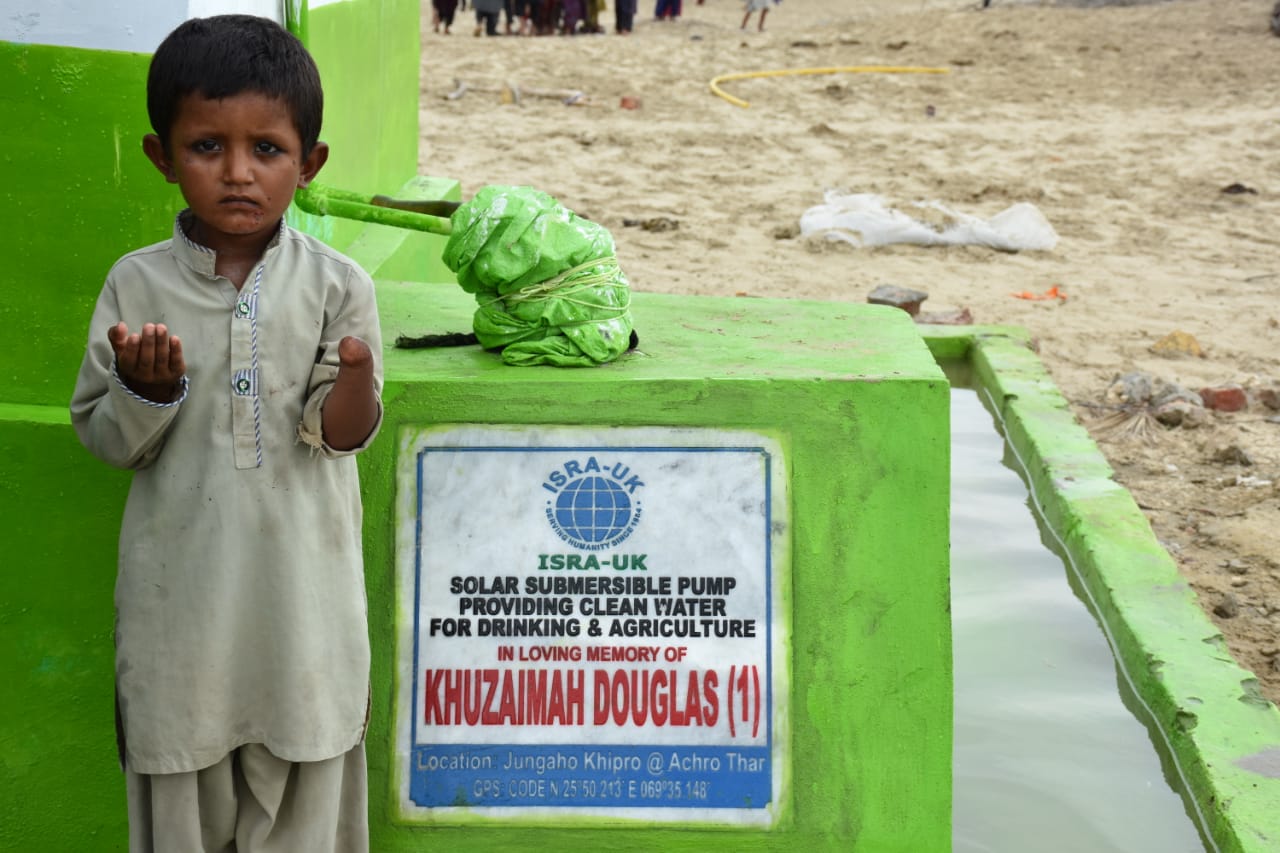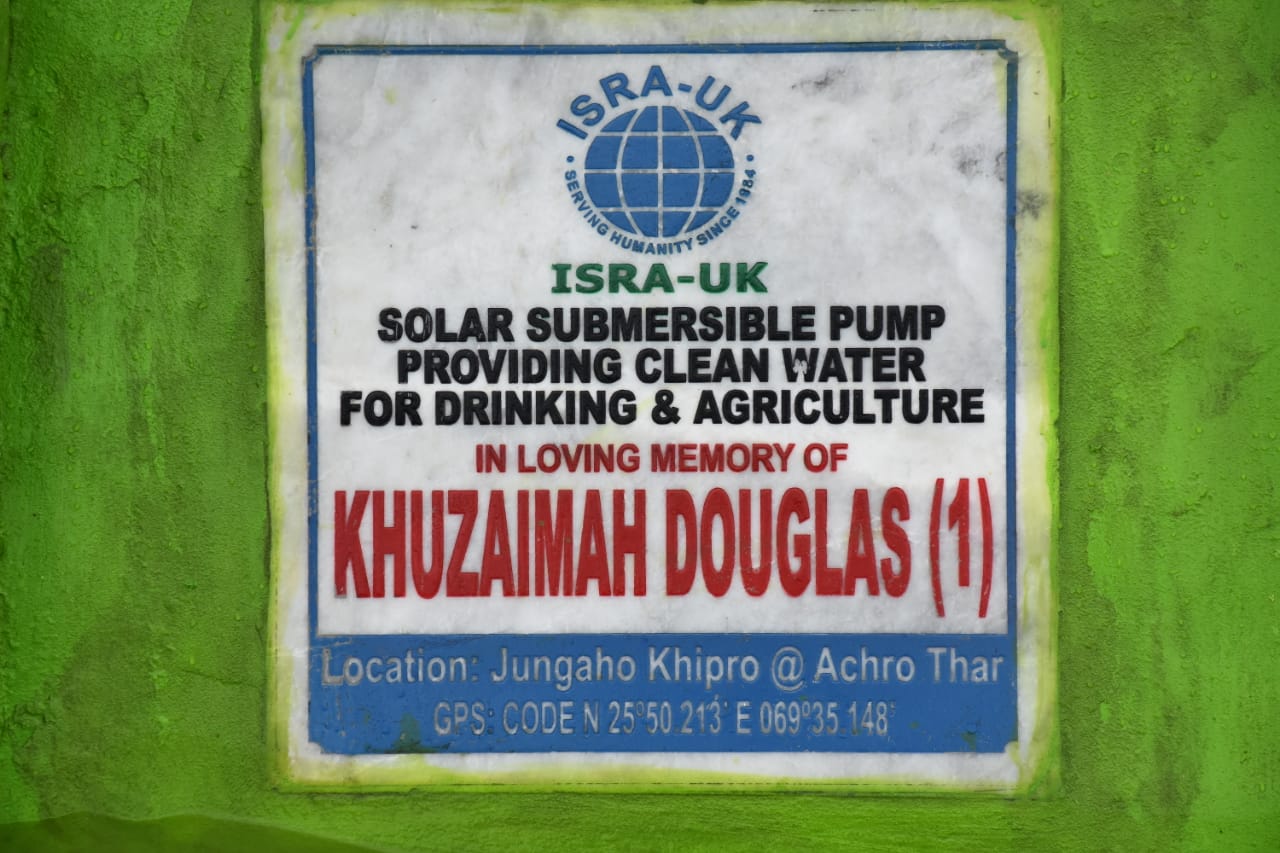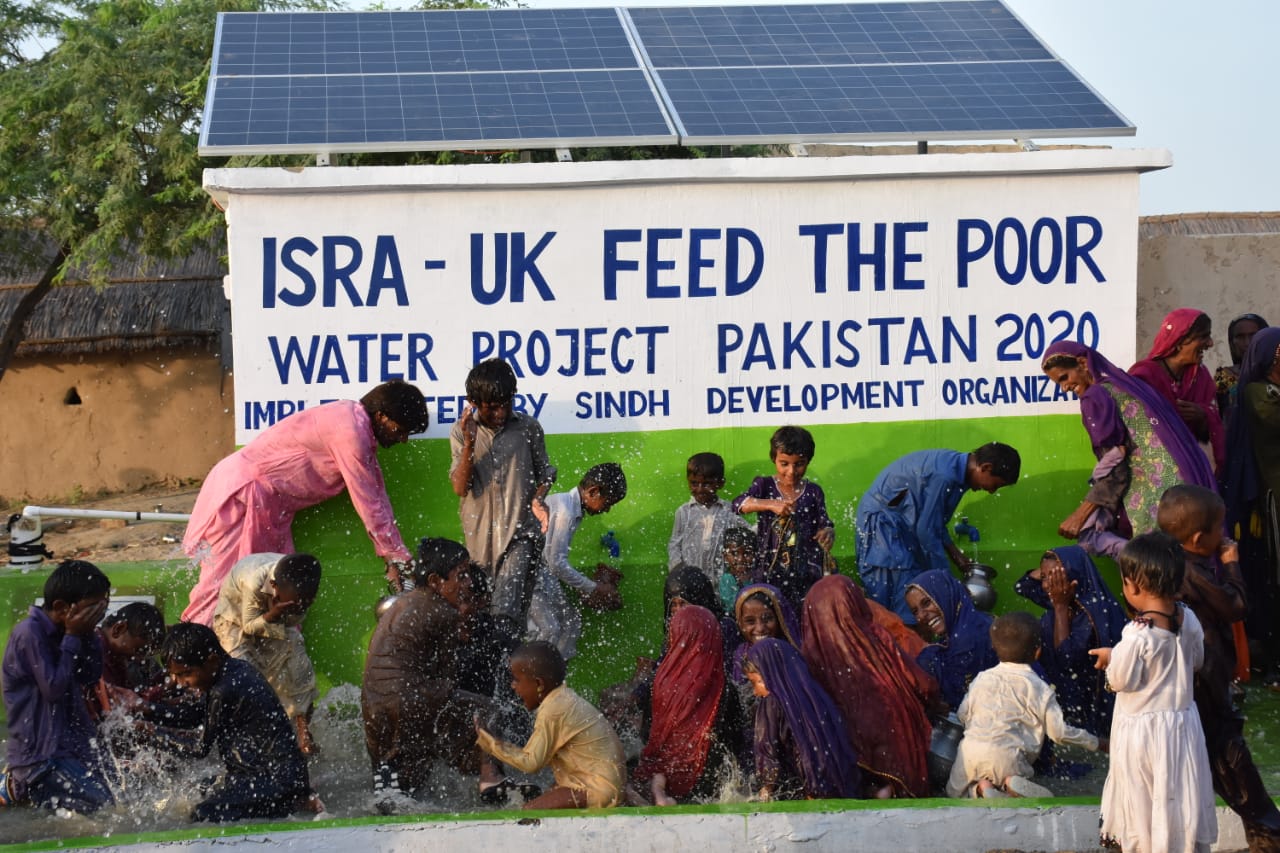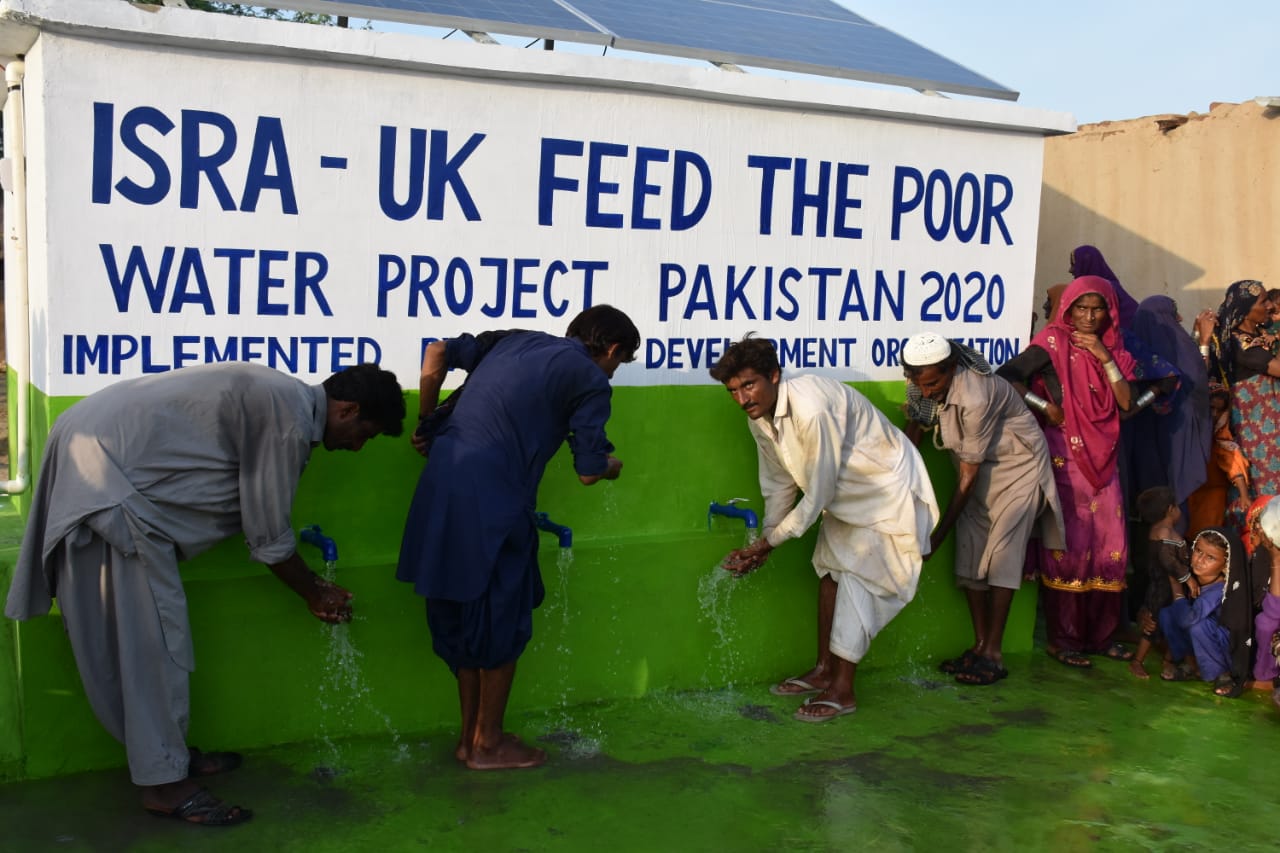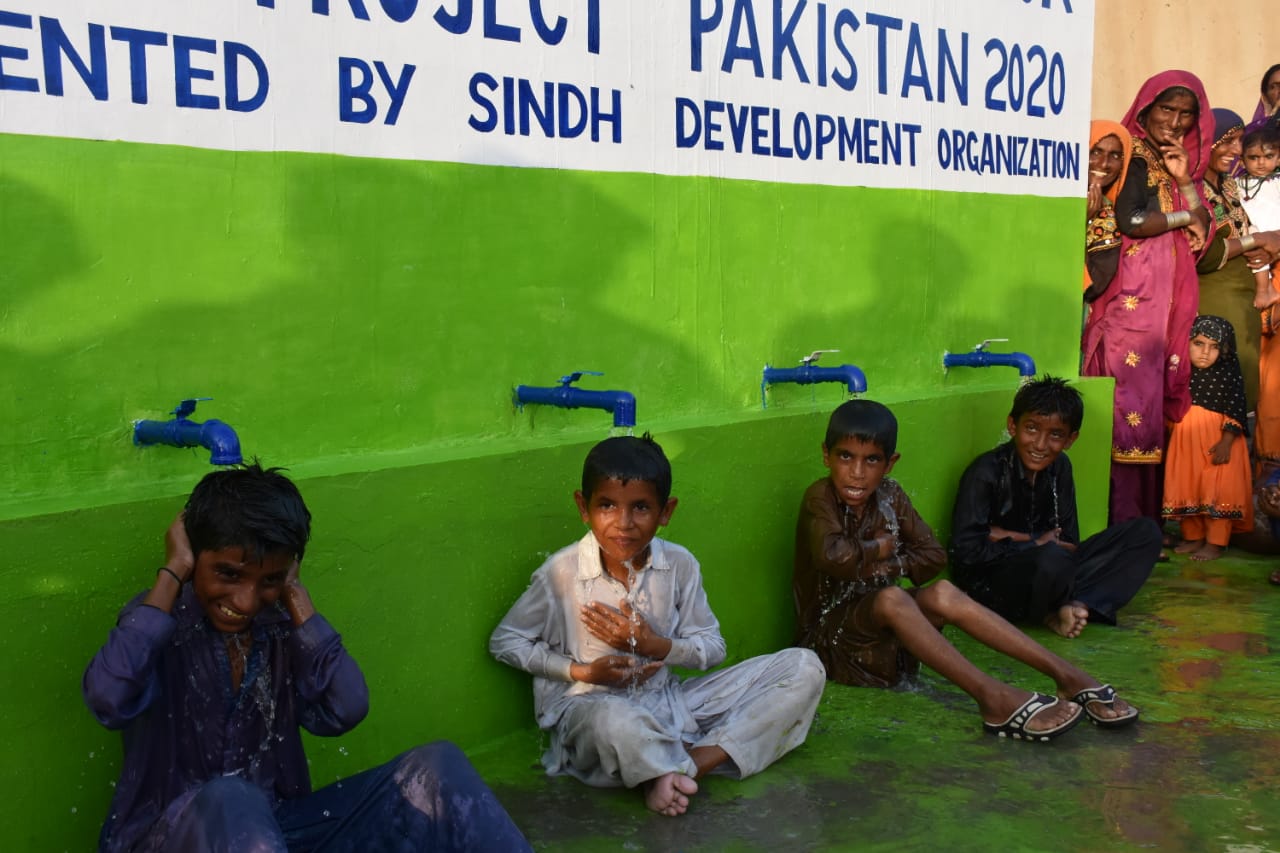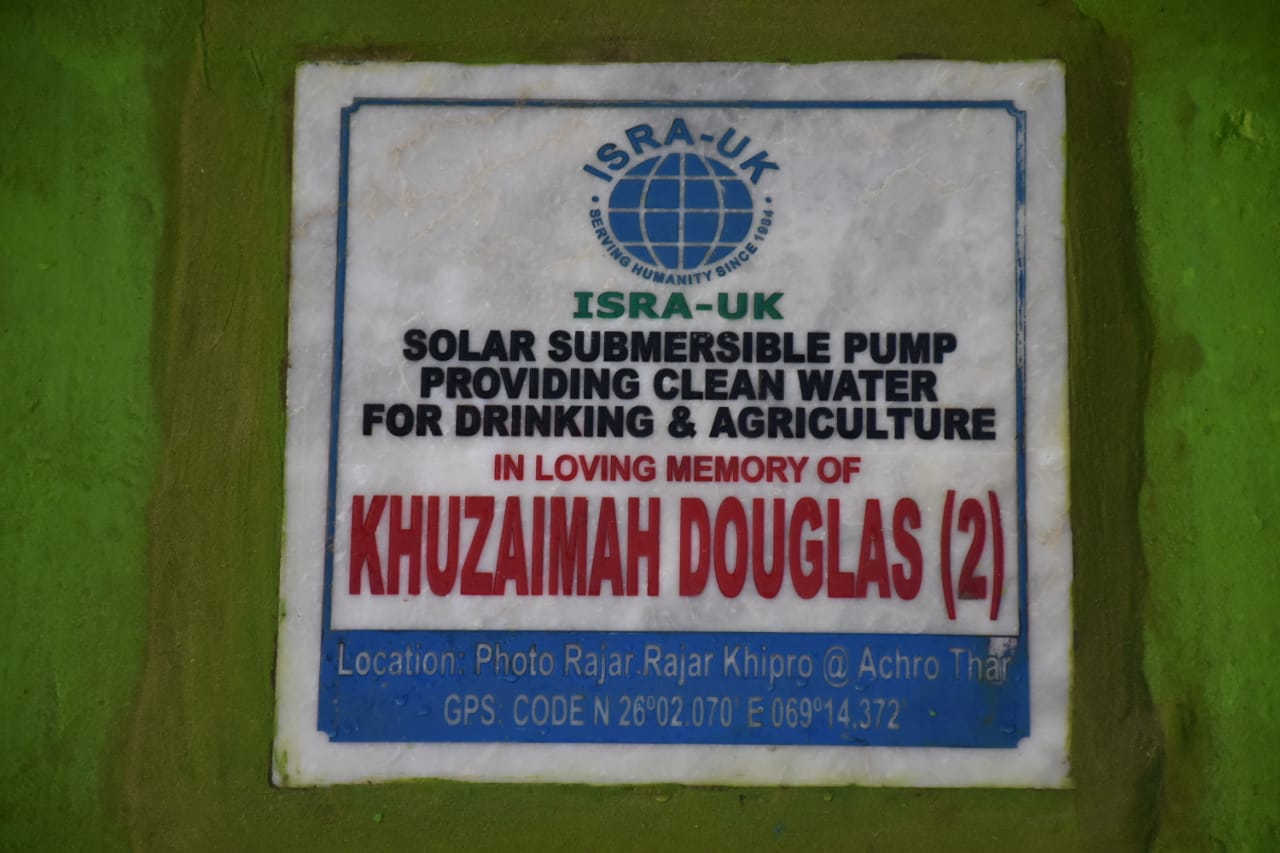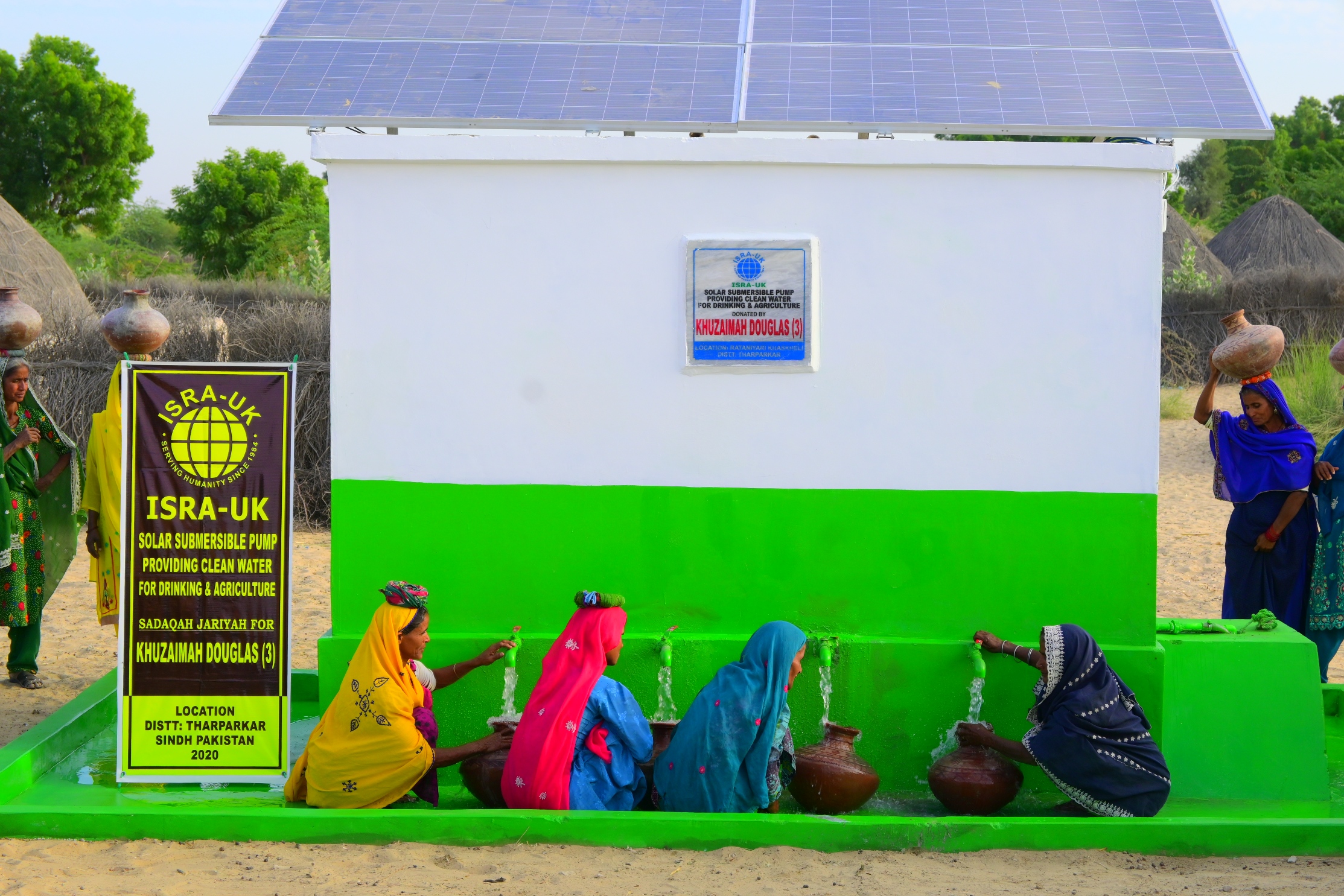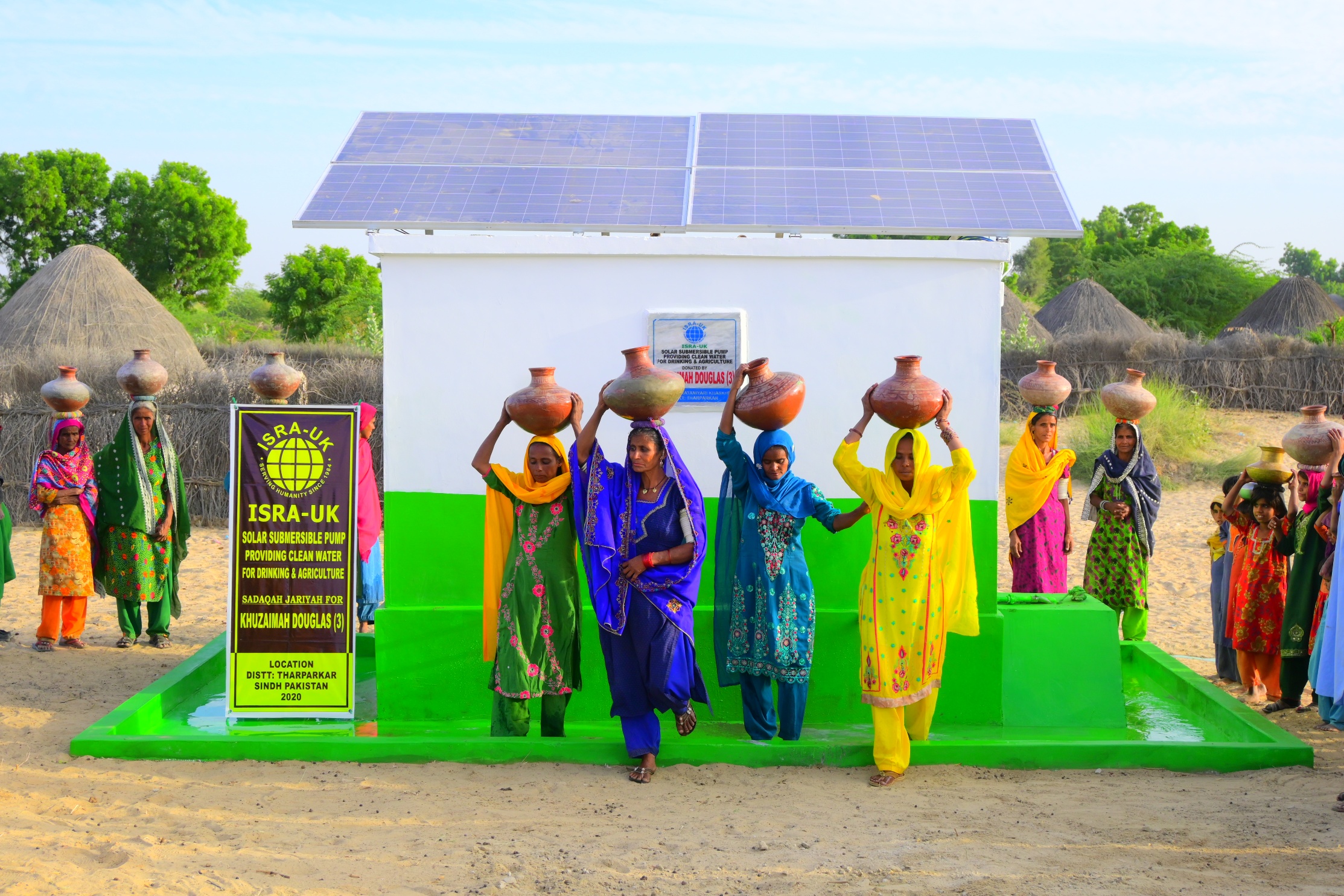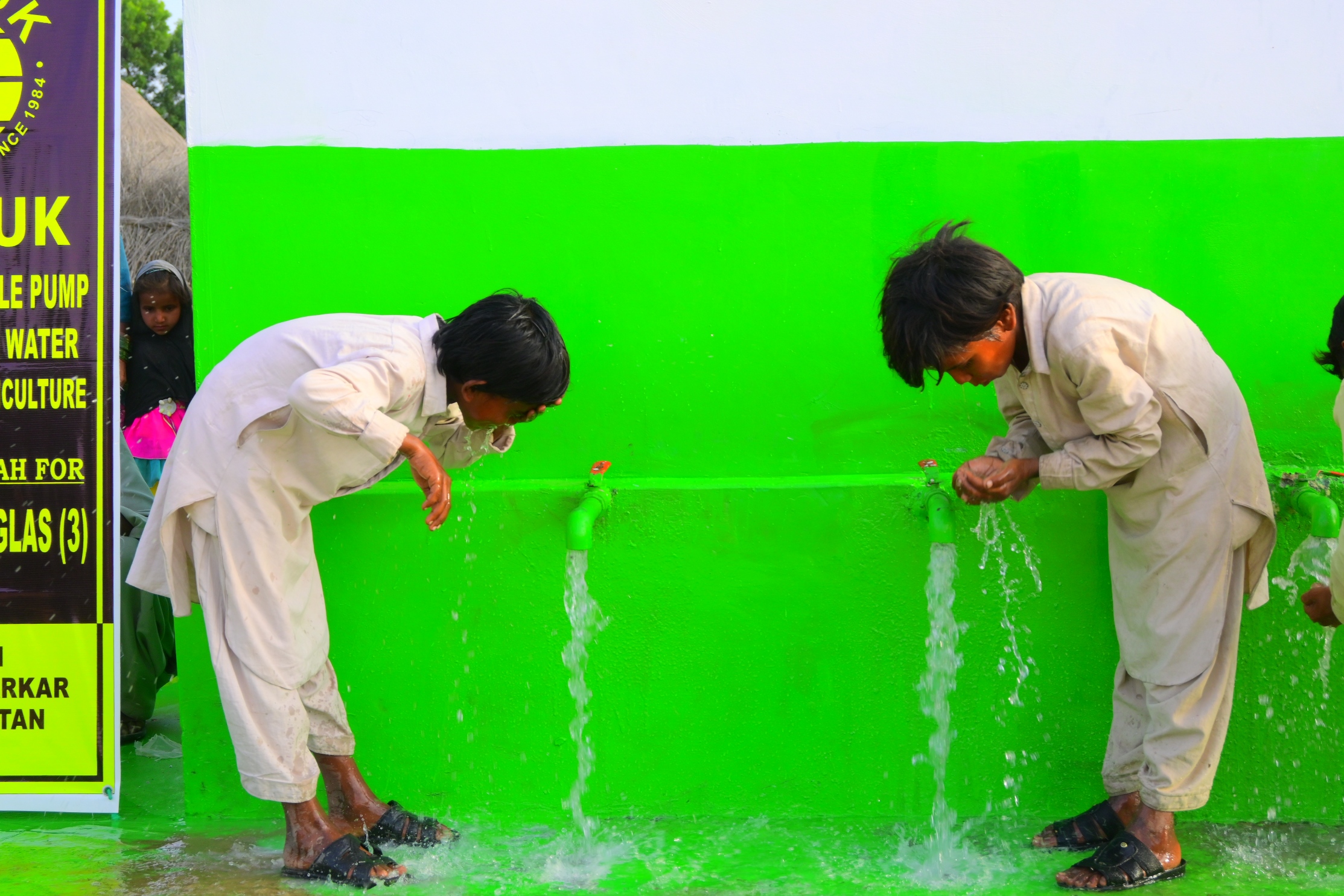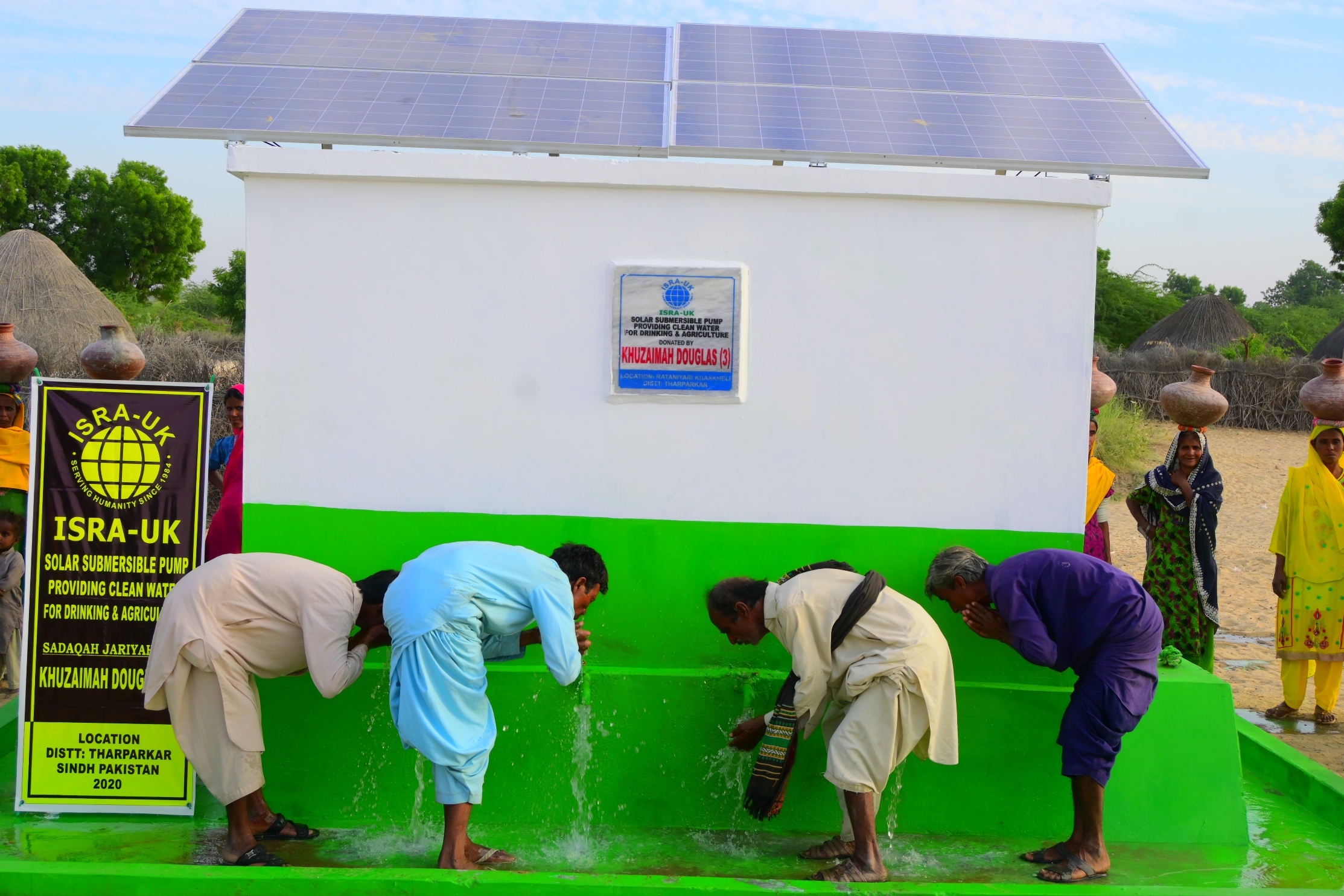 ---
USKA RE:SOLE PROJECT 2020
IN THE NAME AND MEMORY OF KHUZAIMAH DOUGLAS
During the course of 2020 USKA raised £2250 and donated it to the Re:Sole Organisation.
We also organised a shoe collection for them to be reconditioned, repurposed and distributed among our disadvantaged youth in the name and memory of Khuzaimah Douglas.
Re:Sole's mission is to provide the homeless and at-risk youth population with quality footwear to encourage healthier lifestyles and prevent disease while fostering a sense of community along the way.
A message from the Re:Sole team and community
Resole have benefited greatly from the kind donation we received, It has allowed us to reach out to hundreds of people in London and also Manchester during very difficult times throughout the Covid pandemic. Your donations have directly impacted some of the most vulnerable in our communities, May Allah reward you all abundantly and make it a means of expiation and ongoing sadaqah for khuzaimah.
Barakallah feek
If you would like to continue to support the great work that Re:Sole are doing please contact them through the following links.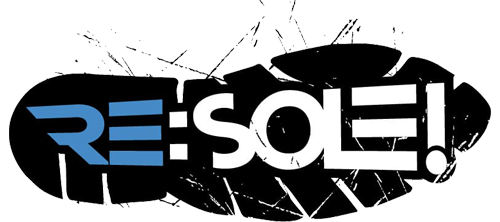 If you would like to continue to support the great work that Re:Sole are doing please contact them through the following links.
WEBSITE
INSTAGRAM
FACEBOOK
---
USKA CHARITY WATER AID PROJECT 2019
IN THE NAME AND MEMORY OF AZMAT YAQUB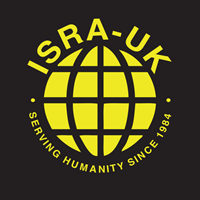 To all at USKA Fight Factory,
Thank you all for your ongoing support in the fight against poverty,
I have been following your achievements and progress online and mashallah you guys have smashed both in competitions and with your fundraising we counted the bucket for the Spring Well in Uganda and it was near enough to £950 the cost of the well, after a little extra top up by Neil. That was December 2019.
Now February 2020 Your Spring Well is now benefiting the local villagers. You will be rewarded for every drop.
It delights us at Isra-UK that we have you all in our corner as we endeavour to knock out poverty.
Alhamdulillah this year 2020 the project to provide a solar powered clean water station is under way. With your help a poor village in rural Pakistan where the temperature can reach over 50 degrees, will get fresh, clean, life saving water.
Life is full of ups and downs may you all have many more ups than downs. Osu.
Yours sincerely
Rashid Campbell
ISRA-UK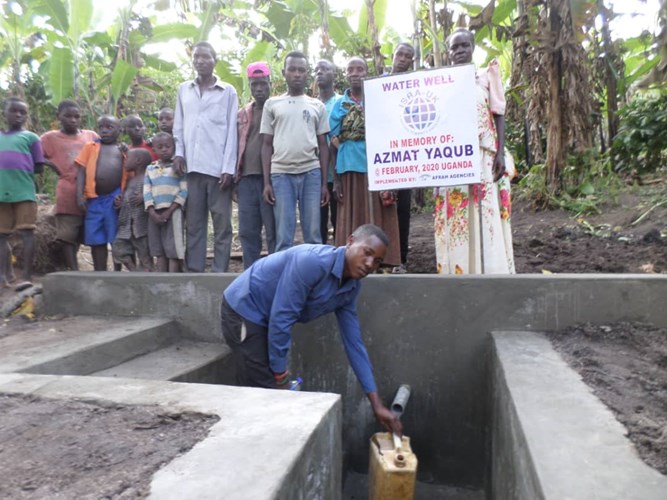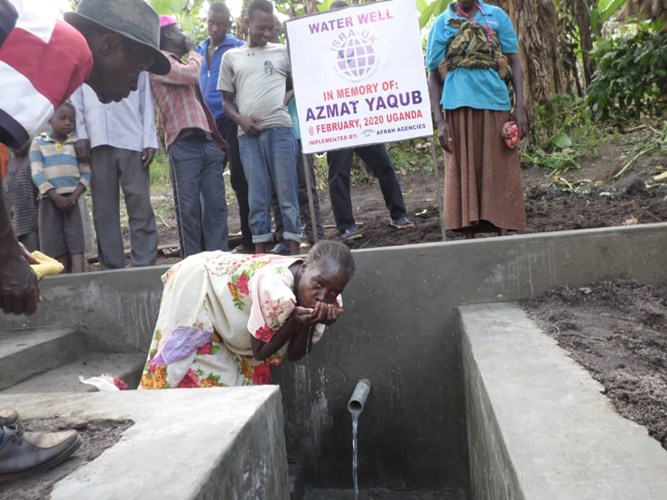 USKA CHARITY WATER AID PROJECT 2018
IN THE NAME AND MEMORY OF AZMAT YAQUB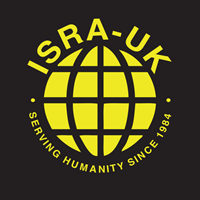 Clean Water Hand Punp in Pakistan in Azmat Yaqub's name and memory.